"Young People and Access to Content Online": Study and Infographic
On the occasion of the "Innovation 2017" Award presentations, Harris Interactive conducted a study for the Federation on the topic of internet access and the digital responsibilities of parents and young teenagers. Prevention, control, practices, expectations… Examine all of the key figures in the infographic and full study below.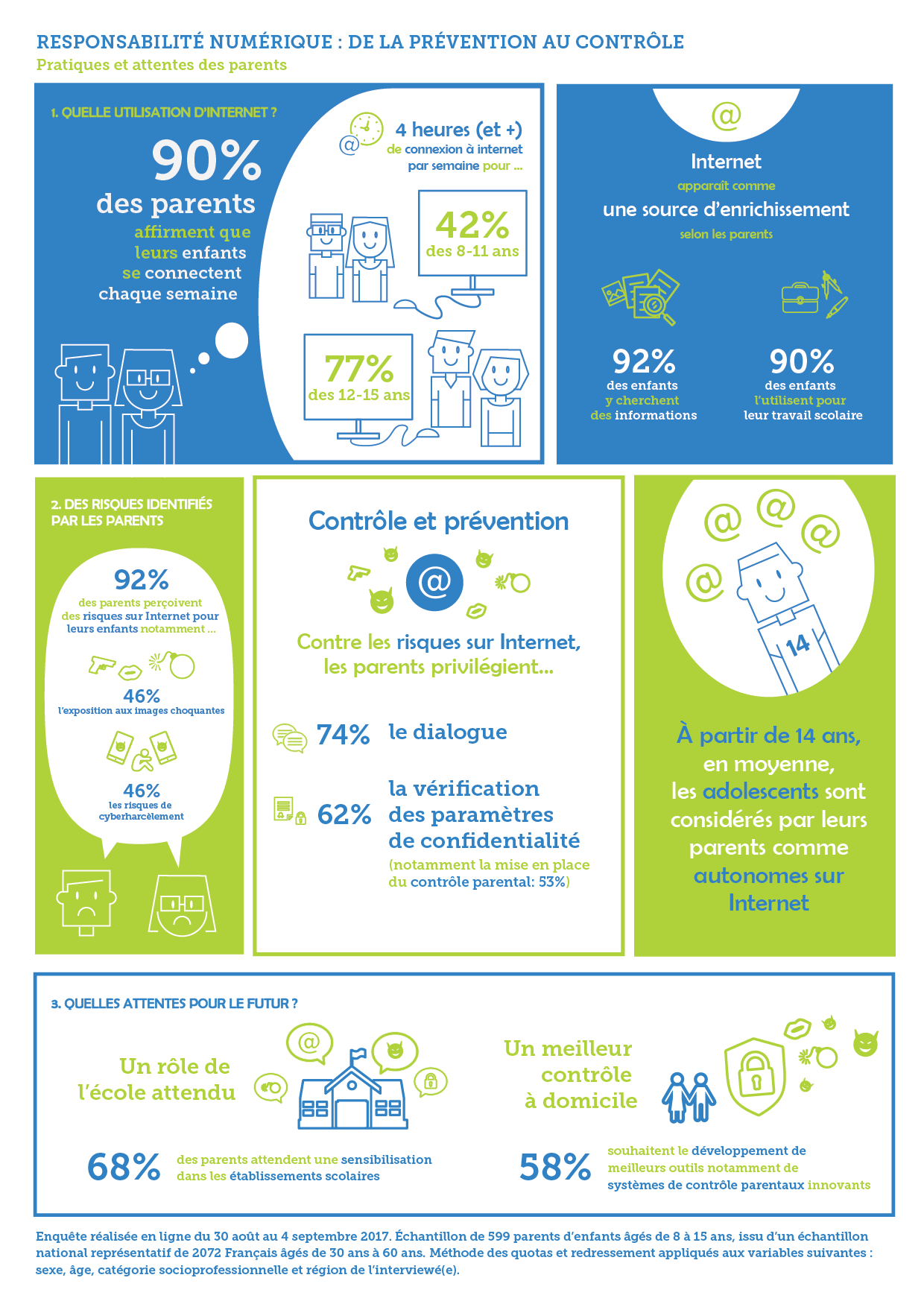 Internet use
90% of parents claim that their children surf the internet on a weekly basis
4 hours (or more) spent online per week for 42% of children aged 8-11 and up to 77% for those aged 12-15
Parents perceive the internet as a source of enrichment:
92% of children use it to research information
90% of children use it for their schoolwork
Risks identified by parents
92% of parents consider there to be risks online for their children. For instance…
…46% highlight exposure to shocking images
…46% highlight the risks of cyberbullying
Control and prevention: to address the risks online, parents favour…
74% dialogue
62% checking privacy settings…
…in particular, the use of parental controls: 53%
On average, parents allow teenagers autonomous use of the internet at the age of 14.
Expectations for the future
A role expected of schools: 68% of parents expect educational establishments to raise awareness
Tighter controls in the home: 58% wish for better tools to be developed, in particular, innovative parental control systems
Survey performed online between 30 August and 4 September 2017. Sample of 599 parents with children aged from 8 to 15, based on a nationwide representative sample of 2072 French people aged between 30 and 60. Quota method and adjustment applied to the following variables: gender, age, socio-professional category and region of the respondent.
See also
Studies and publications

Parental controls, private lives, online shopping, cyberbullying, "fake news"... Discover our tips.