France provides most affordable telecom services pricing says OFCOM
OFCOM, the British telecom authority, published its International Communications Market Report 2015. The research shows that French telecom operators offer the least expensive tariffs among 6 peer countries.
Telecom services in France cheaper than in the UK, Italy, Germany, Spain and the US
The OFCOM report analyses the cost of services for 5 different consumption profiles* and 3 pricing options**. Based on these profiles, OFCOM concludes that France offers the cheapest offers out of 6 benchmarked countries overall. It also provides the cheapest pricing in the "bundled service" and "lowest available" categories. Only in the "stand-alone" pricing comes France second to the UK.
At the other end, the USA rank most expensive in all categories.
6 countries ranked by affordability of telecom service pricing

French tariffs are particularly attractive when it comes to bundled service; in details, the French bundled offers are the most affordable for 4 out 5 studied consumption profiles and rank second for the "connected family" household profile. France also ranks first in 2 out of 5 in the "lowest available" category and second in the other 3.
Detailed comparison of international pricing in 2015 (in £/month) for 5 consumption profiles and 3 subscription options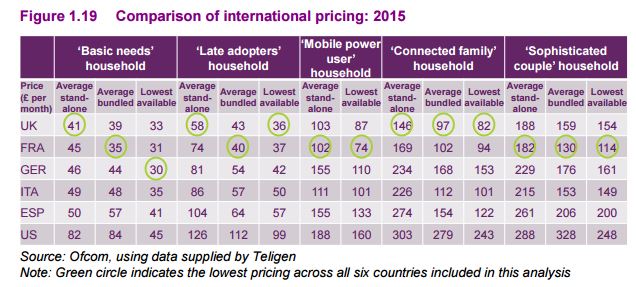 Bundled offers are the French's favorites
89% of french consumers subscribe to more than one service from the same provider. Moreover, 24% of them subscribe to a bundled offer that include fixed voice, broadband and mobile voice from the same provider.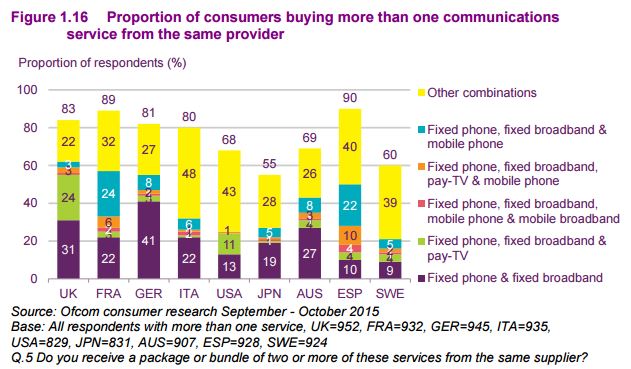 Telecom revenues fell in Europe and France from 2009 to 2014
OFCOM data confirm the widening gap between Europe, and France especially, and the rest of the World when it comes to telecom revenues' evolution trend. Over the 2009-2014 period of time, telecom operators' revenues:
Grew by 2.3% each year on average in the World ;
Decreased by 3.6% each year in Europe on average ;
Fell by 5.2% each year on average.
Compound annual growth rate of telecom revenues in selected areas 2009- 2014 (%/year)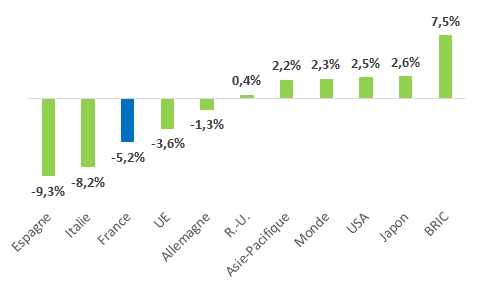 Managed VoIP and IPTV: French success stories
The OFCOM research also stresses that France leads the pack in terms of innovative services based on telecom networks. At end-2014 :
The country boasted 40 managed VoIP connections per 100 people
40% of french households used IPTV as their main TV platform and could access an innovative (VoD and catch up on the TV screen) and rich (9.3 million households could access HDTV through IPTV) audiovisual offer- compared to 30% in South Korea for example.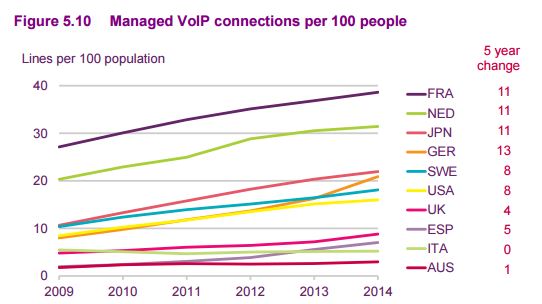 * Consumption profiles: « basic needs with free-to-air TV », « late adopters », "mobile power user", « connected family », « sophisticated couple » households.
** Pricing options: stand-alone pricing, bundled service pricing, lowest available pricing.